The FluidIT Maturity Framework whitepaper helps you work out the answers to these questions, to figure out what's appropriate for you and what's optimal for your business.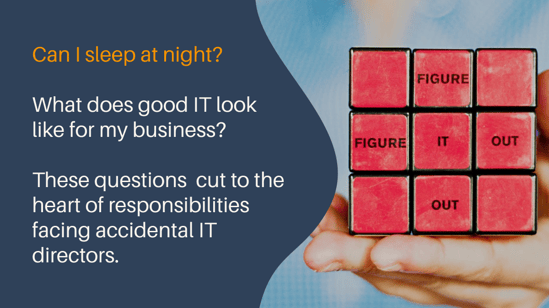 Can I sleep at night?
These days companies are so reliant on IT that if the tech stops, the business stops. The accidental IT director knows that when that happens and it is when, not if, the finger will point at them.
What they're really asking is, "Can I say to the board that we're not at risk in terms of business continuity?"
Every business has levels of risk from security breaches, ageing systems falling over and even natural disasters. It isn't the responsibility of the IT director to remove all the threats. What you can do is put in place protections that are appropriate and optimal for the business. Insurance is a fundamental, as is business continuity and disaster recovery planning.
It is the responsibility of the IT director to articulate the risks the business is currently running and have the business understand and accept running those risks.
So how do you articulate them? The two metrics people talk about are the time it takes to get everything back up and running, and the point from which data will be restored. These are the Recovery Point Objective, RPO, and the Recovery Time Objective, RTO. If you do back ups every day at 4pm and your system fails at 3pm, you'll get everything back from the day before.
And how long will it take to get that back, a day? A week? You might be able to live without CRM for a week, and in a pinch you can pay people exactly what you paid them last month if payroll is down. What about customer services, how quickly do you need that back? The RPO and RTO will be different for different systems.
These are business decisions, not IT decisions.
The business needs to tell IT what they'll need if they lose a site or a system, what they'll want to do and how they'll want to work. The IT department's support is a response to the business need.
What does good IT look like?
I get asked this all the time. You've heard about Industry 4.0, RPA, AI, blockchain, and you're wondering what other businesses like you are doing. Are they miles ahead, am I missing out? Or am I doing well?
The IT Maturity Framework is a way to benchmark yourself. They key is to be in control. You don't have to realise all the opportunities out there, they may not be appropriate for your business. You may be happy to not adopt new technology.
The important thing is to be as aware and informed about the reasons why you're not doing something, as well as the reasons why you are. So next time someone at asks, 'Why haven't you got RPA?' You can confidently say, 'It's not right for us at the moment.'
Robotic process automation (RPA) is appropriate when the quantity of data, time resource and error management is high enough to warrant automating that process. Think about the business value. if there's little business value, don't do it. Start by asking people, you might find Bob who spends six hours a day chasing around because nobody goods received notes anything, but the invoices only take him ten minutes. Put a photo of the goods and goods received note on the system and it'll save him six hours a day.
Another example is data visualisation and analytics software, like PowerBI, Tableau, Qlik. These are brilliant but less impactful if you don't have the underlying data architected sufficiently well to make the most of the product.
Work out what's right and appropriate for your business. Know what you've decided to do and why, and what you've not and why. That's what good IT looks like.
Find out more in the FluidIT Maturity Framework.

Jonty Abbott
Managing Director