Coronavirus brought new challenges for both businesses but it also opened up potential for new ways of working. The two companies had never met, and still have never met face to face.
Remote working was completely new to Checkmate Fire who quickly learned how to use Microsoft Teams. And it was a change to FluidIT's usual model of working on client-site. It turned out great for both businesses.
FluidIT Director Louise Pipe said, "We forged a strong sense of being in it together through lockdown. We built personal relationships quickly, in a way we wouldn't have done pre-lockdown. We were meeting remotely, but in our homes. We met each other's families and pets; we saw the photos on the walls. It removed any barriers or inhibitions, we could all relate to each other because we were all working from home and balancing home and work life."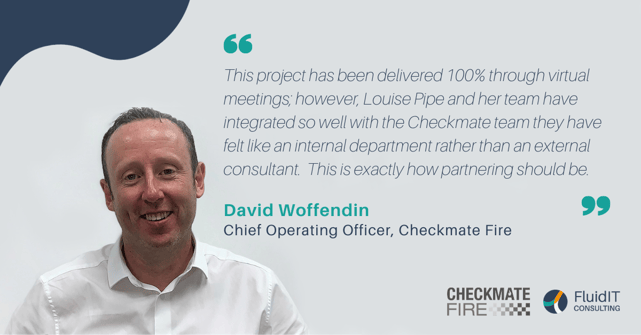 The work began with a clear direction and problem statement from Checkmate Fire. Their objectives were to transform operations, streamline processes and develop a unified approach called The Checkmate Way. Their aims were frustrated by the limitations of the sales, operational and accounts applications. Three systems, Salesforce, Boris and ClipIT, weren't fully integrated. Senior managers had poor visibility into business performance and teams across the regional offices were using inefficient manual processes and off-system reporting methods.
Louise's team started with end-to-end workshops and deeper dive conversations with key people to really understand the business, the culture and the challenges.
Checkmate CEO John Lewthwaite said: "Quite often with IT projects such as this, the scope and costs increase and the team can get obsessed with technical detail and neglect the overall objectives. We discussed governance and controls with the team at FluidIT at the start, and we implemented the right level of light touch controls to suit our mutual needs.
"We knew exactly where we were in respect of programme, deliverables and costs. Yes, we had a few changes to our scope, but we knew in advance, with certainty in our change control and budget management. "
Principal Business Analyst Lindsay Cahill introduced the online tool Gliffy to host FluidIT's first ever remote process mapping workshop on Teams. The Checkmate Fire team said it was 'just as good as being in the room'.
Louise worked closely with the Executive Leadership team to understand the long-term vision and make sure solutions were fit for now, near and future – based on timeframes, technology and budget.
FluidIT delivered three packages:
System integration by robotic process automation (RPA), aka 'The Bot'

Performance reporting with operational management dashboards aka 'One Version of Truth'

Purchase to Pay
The result is a successful operational transformation programme for Checkmate Fire that has streamlined processes, increased efficiency and provided the tools they needed for a unified, consistent approach – The Checkmate Way.
Checkmate Fire CEO John Lewthwaite was the guest speaker at Digital Quick Wins, the first in our webinar series on Digital for Transformational Growth.
image courtesy of @visuals on Unsplash