Seventy percent of organisations stall in the execution of their digital transformation programme (according to McKinsey*) and one reason cited is a lack of clarity about the strategy.
We talked with Whitby Seafoods MD Daniel Whittle who shared the challenges they've faced as a fast-growing SME business. Over ten years the company has expanded to a £60m turnover, employing more than 400 people across two sites.
As they outgrew their IT systems and support service Managing Director Daniel Whittle recognised the business had a gap in strategic IT leadership and a need for help with IT project delivery.
Daniel talked through Whitby Seafoods Digital Transformation journey from using a visual approach to IT strategy called VMOST, to bringing in hands-on project resource from FluidIT.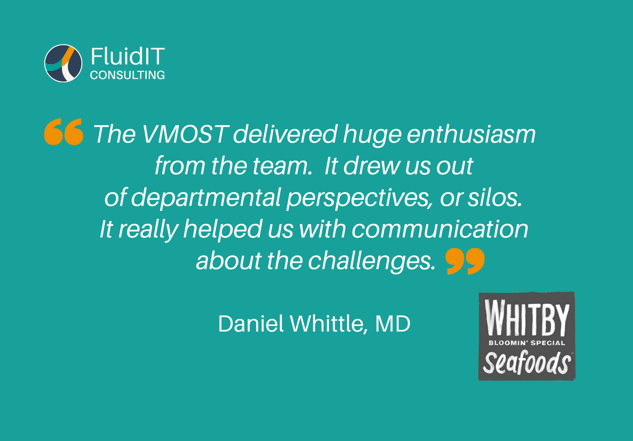 VMOST keeps the focus on the business growth strategy and aligns IT projects to achieving those goals
FluidIT Director Gareth Murphy explained the four step approach to building a VMOST and demonstrated how one SME used it to establish their business goals, brainstorm tactics, drive out estimates of cost and effort and then prioritise projects based on overall business benefits.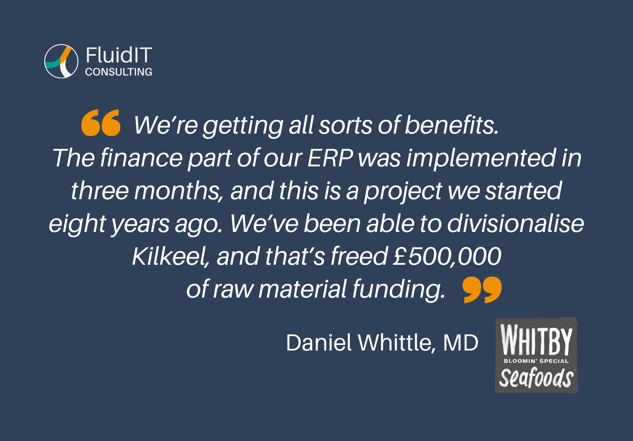 Developing an IT and digital roadmap to support the business strategy and growth plan
​
Louise Pipe, FluidIT Operations Director, shared tips for building the roadmap. She explained how to identify logical workstreams, create a timeline and sequence activities in priority order. This is complex because it involves dealing with a lot of estimates around timescales, capacity and resources. Louise's advice is to get comfortable with uncertainty. She demonstrated a four step approach to building a roadmap.
The recorded webinar and slides from Fail to Plan, Plan to Fail are available.
*In the latest McKinsey Global Survey more than seven in ten respondents said their digital transformation programmes had stalled at some point