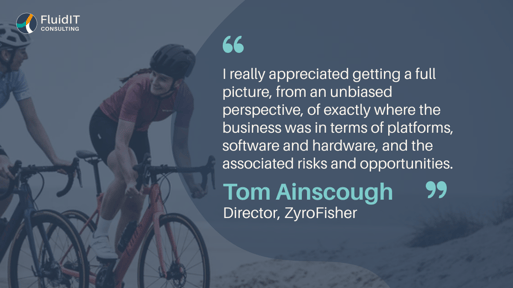 ZyroFisher is the largest privately-owned distributor of parts, accessories and clothing to cycling markets in the UK and Ireland. FluidIT worked with ZyroFisher to deliver an IT due diligence and business system and IT roadmap to support business growth. This geared up ZyroFisher to innovate their way through the Covid-19 crisis, pivoting to remote working in 2020, upgrading their ERP, improving security and expanding from two to ten B2C websites.
Tom Ainscough Director of Operations and IT, said, "I really appreciated getting a full picture, from an unbiased perspective, of exactly where the business was in terms of platforms, software and hardware, and the associated risks and opportunities.

"It allowed me to make decisions about where to invest resource. And we were able to plan and prioritise the deliverables based on the benefits to the business."
ZyroFisher represents over 50 world class brands whose products are trusted by Olympic champions
Experts in multi-brand distribution, the company provides market expertise and improved efficiency within the value chain to benefit their brands, customers and consumers. ZyroFisher also designs and develops the UK's best-selling cycling apparel brand, Altura. The company turns over £70 million a year.

Aligning the business and IT systems strategy and roadmap to the value creation plan

Operations Director Tom Ainscough is a supply chain specialist who took on the role of running IT. He understood early on the challenges of Covid-19 would mean changes for the business and their customers. Tom and the senior management team identified that making better use of technology was fundamental to meet the changing needs and continue to drive business growth. The IT and business systems needed investment, and Tom's biggest concern was ensuring the return on that investment. It was key the IT strategy and plan tied into the value creation plan to enable the business to accelerate their development.

Palatine PE referred management consultancy FluidIT Consulting to deliver an IT capability assessment and build a business systems strategy and roadmap aligned to the value creation plan.

Why Palatine PE recommended FluidIT

FluidIT is a specialist business change consultancy who partner with SME companies across distribution, supply chain and logistics, manufacturing, business and financial services and healthcare. FluidIT invests in long-term relationships, working with and alongside clients on their transformation.
"FluidIT bring deep technical expertise, a commercial mindset and a practical focus.

We see them as a strategic partner for us going forward as we increasingly look to technology to create value across our portfolio"
Gareth Wilson, Portfolio Operations Director, Palatine
How FluidIT Responded

FluidIT's first step was to set up a series of workshops with the senior management team. Through the workshops a visual strategy board was created, which identified all the key tactics, actions and projects required to deliver the objectives in the value creation plan.

It became clear the business needed a formal change management process to prioritise business and IT changes and drive them to completion. There was a lack of visibility and understanding of IT within the wider business, and the IT team was responding dynamically to changing needs and re-prioritising projects based on what was most important at the time. This led to technical debt within the organisation, where the IT team was continually shoring up projects rather than adding future value.

FluidIT created clear actionable recommendations including creating a change management forum of senior business leaders to drive project prioritisation. A range of gaps in the current IT provision and capability were identified and prioritised, and the business risks of those IT gaps were articulated in plain English. Clear ownership and accountability for IT and change deliverables, business systems and processes were established.
Tom Ainscough said: "I felt like FluidIT really listened to what I was after. The approach focusing on immediate containment of some of the legacy issues was brilliant. It gave clarity on what good would look like, and also how we could get there.

"The work that FluidIT did with regards to mapping IT to the VCP provided not only real clarity, but also asked the questions of why we were trying to do things in the first place. The implementation of the change board provides us with a legacy going forward."
The Results

FluidIT delivered a clear prioritised roadmap of IT and business systems investments, aligned to the value creation plan to digitalise the supply chain and customer journey. IT risks and gaps were identified with a set of actions and recommendations.

Very quickly ZyroFisher were able to implement a number of investments including Office 365 migration, compliance with the Payment Card industry Data Security Standards was upgraded and a role for a Data Protection Officer was created. The change management forum was implemented, along with the identification of business system and process owners. New broadband connections boosted resilience and disaster recovery capabilities.

This gave the business the foundation to change and grow – to upgrade their ERP, improve security and expand from two to ten B2C websites.

ZyroFisher Ops and IT Director Tom Ainscough's key takeaways from the ITDD and roadmap

In the IT Maturity webinar Tom outlined what he learned through the process of working with FluidIT and what he would do again.
Get an unbiased view of your IT function. It's critical to get an unbiased perspective on the current state. A lot of businesses are quite rightly proud of everything they've achieved, but are the business and IT systems at the very best they can be? The last thing you need is someone who's proud of their system selling it to you.


Align the IT strategy to the business growth plan. Unless you're clear on the direction on the business, the business change, and value creation plan, it's really hard to develop a successful IT strategy and plan.


Develop a formal change management process. You need a forum for communication and the flexibility to allow changes within a formal environment. From an IT perspective it creates the visibility you need across the wider company, to show IT is a value-added service that supports the business.


Make conscious choices on whether to partner or do work internally. It's easy to say we can do that, so we should. Having the IT digital roadmap, that structure and visibility of projects and timelines, allowed me to look at resource planning and make decisions based on benefits and costs.