Igniting digital transformation with lightbulb moments
Whitby Seafoods and FluidIT activated a stalled ERP project and in five months the revitalised change programme delivered £500K in business benefits.
---
Whitby Seafoods' senior leadership team activated their digital transformation through not just one but several lightbulb moments. In visual digital and IT strategy workshops led by FluidIT MD Jonty Abbott, the leadership team arrived at consensus on priority initiatives across data, business systems, IT and resources.
Working together from visual digital and IT strategy to roadmap to delivery, in five months the revitalised change programme had already:
Aligned digital and IT spend to business benefits and priorities
Given the business confidence to make the right IT investments
Established a clear priority for IT and a shared vision between the business and IT

Rescued a stalled ERP implementation

Freed u

p £500K of raw material funding

Re-energised the senior leadership team and freed up their capacity to focus on priorities knowing that IT had a roadmap for success
Whitby Seafoods are Bloomin' Special
In 2019 Whitby Seafoods were the fastest growing coated seafood brand in the UK, thanks to their ethos of continuous improvement and investment in their products, factory and people.
Over the last 10 years, they have more than doubled their turnover, reaching £60m in 2019. As the company outgrew its IT systems and support, Managing Director Daniel Whittle recognised there was both a gap in strategic IT leadership and a need for hands-on help with IT project delivery.
Challenges in activating digital transformation
MD Daniel Whittle was looking for solutions because business growth was becoming increasingly held back by IT, and their ERP project had stalled. The sales team was frustrated by poor visibility of data. The Sage Business Intelligence reporting tool took forever to open and performed incredibly poorly while working remotely. HR processes and factory data were still largely paper-based.
Financial Controller Mark Teasdale had responsibility for IT but this was always secondary to, and a distraction from his core Finance responsibilities. No one in Whitby Seafoods had experience in IT or project delivery. The sales team were focused on their customers. Their IT systems provider was focused on servicing Sage and the business wanted to move away from Sage.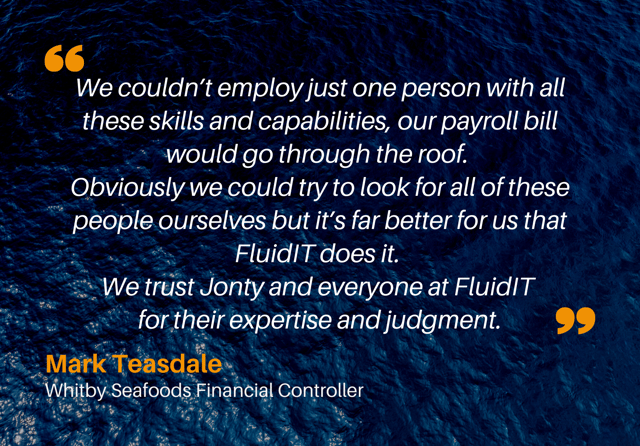 Daniel approached several consultancies, one offered fractional IT Director as a service, which looked attractive but lacked the project delivery element needed to get stuff done. Others looked like they had areas of specialism that didn't align to the challenges Whitby Seafoods had. Daniel got the impression they would sell 'what they do' rather than thinking about what the business needed.
He said, "They seemed to speak an entirely different language. It's quite difficult to interpret and you end up having to place great trust on people you've never worked with before.
When we talked to FluidIT they seemed to speak a similar language. They explained things in plain English, and we liked the fact they're solution agnostic, and didn't come with a hidden agenda.
We had confidence they wouldn't want to just sell us what makes them the best commission, but would do what's right for our business and offers the best value for our needs."
Daniel decided to engage FluidIT and everyone in the senior management team agreed. Financial Controller Mark Teasdale thought they would begin with a hardware review and go from there. What happened next was unexpected, especially the level of enthusiasm it generated.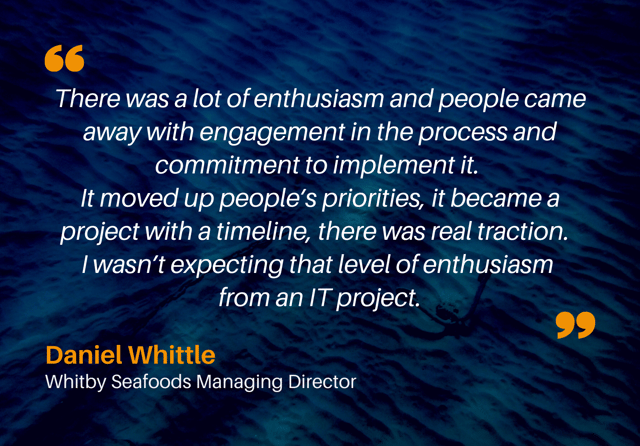 Gaining traction with hands-on help
FluidIT MD Jonty Abbott started by listening to the leadership team in a series of interviews. He recommended and led a visual strategy workshop with the senior management team, where they started from Whitby Seafoods vision to leverage systems and processes that 'wow' their customers.
The VMOST drove out agreement on four company missions around data, business systems, IT systems and project delivery resource. Together they identified strategies, business objectives and prioritised IT tactics necessary to achieve them.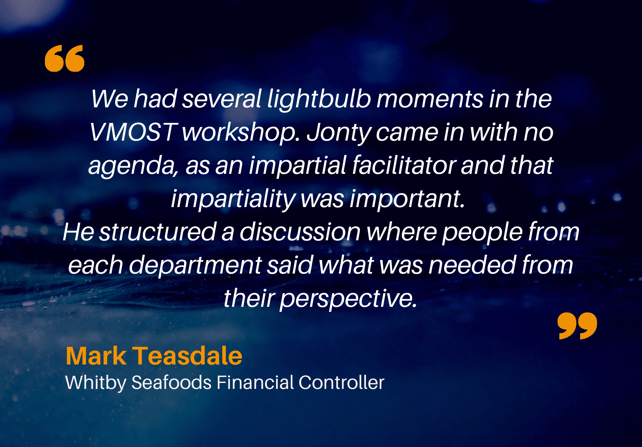 Mark said, "With the VMOST board we got to see everyone's pain points and we had a healthy debate around prioritising IT investment, and that was really important. We came out of that room with an agreed list of priorities for action. Everyone understood what we were doing and everyone understood the backdrop to what was happening."
Daniel agreed, he said: "We got everything that was on people's minds, we captured everything, all the senior team, heads of department, all got a voice, everyone said what they wanted.
The FluidIT team includes a mix of capabilities from IT Directors to expert Project Managers, Business Analysts, and Developers. Whitby Seafoods needed this full spectrum of delivery capability to deliver their digital transformation roadmap. Mark said he and Jonty and use the term 'dialling up and dialling down' a lot. It means Whitby Seafoods tap into exactly the right resource at the right time, at a level of expenditure that was affordable and appropriate for them.
It's freed up £500K of funds and made people's lives easier
In the five months since the engagement began the finance ERP has gone live, which allowed Whitby Seafoods to divisionalise the site at Kilkeel and freed up £500K of raw material funding. Daniel Whittle said there have been all sorts of spin off benefits including making people's lives easier – not just within the finance team but everyone who interacts with them.
Whitby Seafoods partnership with FluidIT continues, together they're working to complete a 12-month manufacturing ERP project, and on the horizon is a hardware refresh and some business intelligence dashboards.
Daniel Whittle was the guest speaker at the third webinar in our Digital for Transformational Growth series, Fail to Plan, Plan to Fail.
See the interview, find out more about VMOST and download the slides.